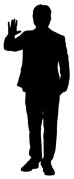 This is Goodbye
I'm pulling the plug on the Urbach Letter, and this is the final issue. Victor Urbach isn't going away, but you won't be seeing this particular email in your inbox anymore. I have something very different planned and I hope you'll join me in a new adventure starting in 2014.
I started writing this letter in July of 2002. Since then, so much has changed in the world. But this newsletter hasn't; it isn't much different in appearance and function than the very first issue. So, it's WAY overdue for not just a makeover, but for a total reimagining. I'll still communicate with you (if you so choose), but it'll be in a very different format and venue.
Issue #1
If you are curious how I got started, this letter grew out of several for-profit print newsletters I wrote for niche industries and professions throughout the 1990's. I always wanted to write one that had no real constraints or obligations to anyone. I wanted to pick the things that interested and amused me personally, and share them with friends and associates in an original way.
However, this newsletter format has some severe limitations. It's very unidirectional, from me to you, when the nature of communication has evolved to be much more dialog-based. It's very "lumpy," unloading a whole bunch of information all at once each month, when the preference of many is to get their info in more bite-size pieces, more frequently. The current implementation of this newsletter is not at all mobile-friendly. It's designed to be consumed on a big screen, when the overwhelming trend is to consumption on phones and small tablets.
Clearly, it's time for this bird to fly off, and for the Urbach Letter to evolve to a different species.

Article Archive
I'm proud to say that in 11.5 years of publishing this letter, I've never missed a month. All of my 282 articles, features, and supplements will remain in a searchable archive:
Last of the Urbach Letter Cat Humor
| | | | |
| --- | --- | --- | --- |
| Odd Man Out | The Real Reason | More Than | Pitiful |
| | Cardboard Cat Art | Wants to See It | |
Last Dogs and Other Creatures
| | | | |
| --- | --- | --- | --- |
| It's Working | Not the Park | Fortune Teller | Snow Dog |
| | Where Birds Shop | So Much Better | |
Farewell, Not Goodbye
Thank you for being in my circle and welcoming this letter each month, allowing me to share my ideas and discoveries with you. Your time is valuable and I appreciate that you chose to spend it with me. And even though the Urbach Letter is going away, I sincerely hope we'll remain connected in the New Year and beyond.
Stay tuned. Good things will happen...
P.S. If this turns out to be a convenient time for YOU to pull the plug, that's OK too. I thank you for investing your time over the years, reading my frequently overlong newsletters.
That's all, for forever. No more next month. But I'm still very reachable at victor@urbachletter.com.
Prior Urbach Letter articles are here in a searchable index: Urbach Letter Back Issue Archive.

---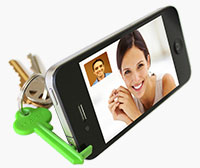 Keyprop
When you're out and about, two things are always with you: your smartphone and your keys. That's why the Keyprop makes so much good sense. Simple and clever, Keyprop plugs into your headphone jack or Lightning port and positions your phone at the perfect angle for viewing videos or reading on your desktop or airplane tray, or for taking group self-portraits in camera mode. It's precision-molded in non-conductive polycarbonate with a grippy, rubberized TPE coating. Available in 6 colors. $12.95 from Integral.
---
Fun Stuff
By the way, it's always been OK if you liked the right column filler stuff more than my articles...
---
Response from NASA

---
Best Business Card Ever

---
Document the Process

---
Dilbert's Boss

---
Zero Days

---
Yay Robbie

---
Self-Checkout

---
Capitalism In Action

---
Biker Bar

---
Apparently, this Sells Very Well in the South

---
Don't Try it Don

---
How Life Works

---
So Long For Now
It's been fun